I took my friend Shawn out for his belated birthday brunch. We decided to take advantage of Toronto in the summer by exploring the Sunday Antique Market at St. Lawrence Market. Wanting to eat nearby, we picked the French restaurant "Le Papillon". I had never eaten there before, but it was supposed to be one of Toronto's better French restaurants. That being said, I've found from personal experience that there isn't really a mind blowing French restaurant in Toronto, and this has been echoed by other food lover friends/online reviewers... so I suppose Le Papillon's description of "better" should have been taken with a grain of salt.
(I do, however, love the brunch at the French restaurant La Palette. I've still yet to try their dinner, though!)
The prices seemed alright, roughly $10 for most courses, so we stepped in.
I ordered a black coffee-- it was a bit weak but the flavor was alright. I guess I'm used to dark roast coffee from a French press.
Shawn ordered the Croque Monsieur (well, since he got a fried egg on top, I suppose it's a Croque Madame) and I ordered the Pain Dorin (French Toast with fruit compote). Shawn didnt rave about his dish, and said it was alright.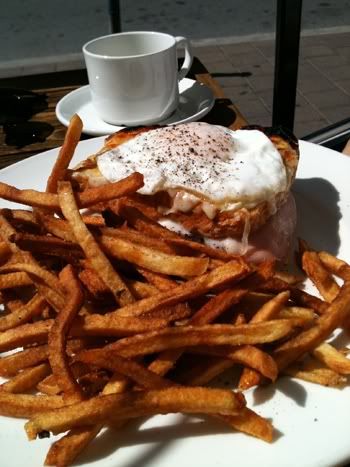 He was also missing the bechamel sauce that some croque monsieurs feature. I sampled a few of his frites and they were pretty standard - they didn't get much of a reaction out of me.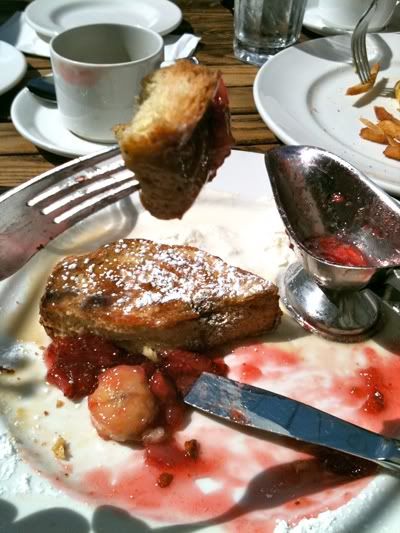 My French toast was nice because it wasn't too sweet, and the bread was hearty without feeling like a brick in my stomach. It wasn't overtly eggy or buttery, which suits my palate. The fruit compote was too syrupy in my opinion... perhaps a bit of lemon zest would have perked it up a bit. I'm in no hurry to return to Le Papillon, sadly... But Shawn and I had a lovely day, all the same. :)